Our featured starlet today is rising star Ms. Camille Black.  Camille Black caught our attention with her unique look, striking tattoos and extreme sex appeal.  However, much to our delight we were surprised to find out about her lust for rimjobs.  Upon our discovery, we contacted Camille Black immediately to discuss her start in the art of rimming man ass.  Camille Black's bio describes herself as "Strange & Deranged. Cute & Creepy."; which is rad.  However, one thing we do know is she is hot as hell and a ferocious ass licker indeed.  Enjoy!
RIM: Camille Black welcome. How are you?
CB: I am doing just jazzy! Just editing some porn for my website.
RIM: How did you get in the business?  How long have you been in the business?
CB: Well when I was in my early teens I discovered porn & the "Suicide Girls" and decided early on that this was something I wanted to do. The day I turned 18 I got a job dancing in a club and just took it from there. Now I am here. Lol.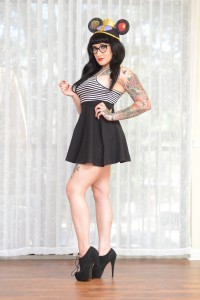 RIM: We love when hot girls do naughty things.  You tweeted a rimjob post with Dickdrainers.com which CERTAINLY caught our attention.  How were you introduced to female on male rimming?  Did you do so before porn?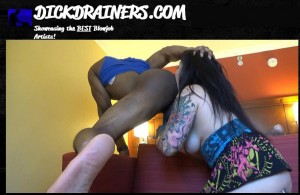 CB: Well I first learned about rimming via porn (watching of course) I always enjoyed butt stuff in my personal life and thought to myself well hey if I like butt stuff and I like my ass being eaten then hell other people probably like it too! Lets try it and see where it goes! So yeah I suppose I have been eating the booty for a while.
RIM: Do you discuss your desire to rim your male counterpart before sex or do you just make it a surprise?
CB: Well I am all about consent. I am very open with my partners, and very clear with any and all sexual acts that they or I may be engaging in. I like to make sure that anyone I play with is always at very least willing to try something new. You never push someone's limits and just surprise them with any sexual act. Not only can it ruin the vibe that's going on but you don't want to make that person feel … vulnerable and violated.
RIM: What in particular turns you on about rimming?  Do you find it erotic?
CB:  I love rimming because as I said I personally know how euphoric it feels. It is such a great sensation and incredibly stimulating. I take serious enjoyment in knowing that I am giving someone the same pleasure they have given me.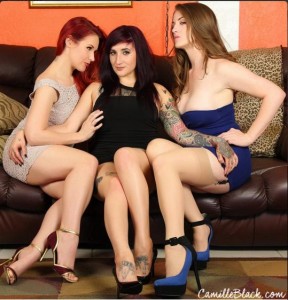 RIM: Do you find it is more for your pleasure or for pleasing your partner?
CB: Oh wow. I am always answering questions before their asked. Lol. For me personally it's both. Sex is about making both parties involved feel pleasure. So by me knowing that a certain sexual act is mind blowing amazing preforming it on another person who equally feels the same is pleasure in itself.
RIM: Do you recall your favorite rimjob?  Who was the other performer?  What was the movie title or scene from site?
CB:  Haha! My favorite rimjob so far has probably go to be for Mr. Mark Rockwell himself! (http://clips4sale.com/47321/14737615) Before our scene he was like do you do rimjobs and I light up like a light. In the year I'd been performing no one had even asked me if I had so when he did I was like fuck yeah! I even gave him a two hand stroke job as I rimmed his ass. I know that had to be amazing for him. Lol.

RIM: Man ass – hair, shaved, doesn't matter?
CB: I prefer shaved. I don't mind pubic hair in fact I myself have a lovely ass bush but when it come to the asshole ;  always shaved.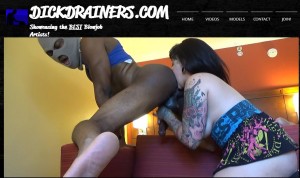 RIM: Are you a fan of any other girls that do rimjobs?  If yes, Who is your favorite ass licker – past or present?  Why?
CB: You know I can't really say. I don't see many girls that eat ass in porn but I don't always look for that specifically. I do change up the sites that I subscribe to every month so that may play a part in why.
RIM: For those ladies that may be contemplating doing rimjobs; any encouraging words?
CB: Lol. Make sure your partner is comfortable with it first. For a lot of people anal play of any kind is a very hard limit while others wouldn't mind trying something new. I have realized on and off film if your partner isn't enjoying it you won't either. But hey maybe that's just me.
RIM: Will you incorporate rimjobs into your scenes as much as possible?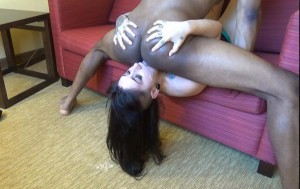 CB:  It all depends on the roll that is being played, the other performer and what the director wants. If I had my choice I would convert everyone I worked with into butt stuff loving fools. Lol.
RIM: You are truly awesome.  Thank you!
Editor's Note: you can see more of Camille on her Twitter, her Website and her Clip Store.