Our featured starlet today is Ms. Sarah Shevon. Sarah is a California native and a rising star. More importantly, Sarah is a very dirty girl. Enjoy!
AEW: Sarah welcome. How are you?
Sarah: I'm great!
AEW: How long have you been in the business?
Sarah: I started in March 2009 but I was only shooting for one company in San Francisco. I came to LA to be represented by Mark Spiegler and work for the rest of the porn world in July 2010.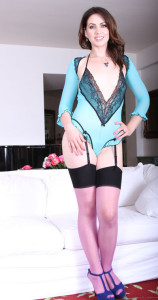 AEW: We like to fancy ourselves on getting with the dirtier girls and that's why we're talking.
Sarah: Ooh la la (laughter).
AEW: In particular Sarah the art of rimming.
Sarah: Yes.
AEW: Do you recall the first time you rimmed a guy?
Sarah: Actually I think I do recall.
AEW: Was it before porn or after poor?
Sarah: There was a guy before porn that I used to fuck in the ass with my strap on. I remember he really liked rimming I mean you know when I rimmed his ass. I think that was the first man ass that I licked.
AEW: Was it a suggestion of his or did you do it on your own?
Sarah: That's a good question (laughter). I might have went there but he definitely wanted it too. I mean that is a very good question though.  I mean for that matter how did I wind up fucking his ass? I mean he was fucking my ass too but really how did we get here? (Laughter)
AEW: In particular what stimulates you when you rimjob a guy?
Sarah: I'm just obsessed with buttholes I think personally and I do like their reaction too. I do feel like I'm more in control of them when I'm sucking their cock versus licking their ass. But when I'm licking their ass I think I get off on it because it feels like something dirty even if their ass is squeaky clean (laughter). It is just kinkier. A little extra something you know.
AEW: No hairy man ass though right?
Sarah: I don't mind if it's hairy.
AEW: Wow you are a dirty girl (laughter)
Sarah: I mean some women have hairy ass (laughter).  I mean I'm sure you've ran into chicks that were completely shaved on their pussy only to find out they didn't reach back to shave their asshole.  And you're like "why would you leave that?".  But it's hot because it kind of makes it dirtier right? (laughter)
AEW: Are there any rimming scenes that stand out that you could recommend for us?
Sarah: I've definitely licked man ass quite a few times.  But the last couple times I shot for Mike Adriano in Anal Perverts and Anal Inferno 2 those two scenes definitely had a lot of salad tossing. (laughter)  Me and the other girl both were really going to town on his asshole.
AEW: Who was your co-star in each?
Sarah: Anal Perverts it was Lyla Storm and Anal Inferno 2 it was my friend CiCi Rhodes.  It was kind of odd.  I've shot for Mike like six times or so.  After one shoot I asked him "hey would you have been ok if I licked your ass?  I don't know if you would have been into that."  So he was like, "oh sure totally".  And every time after that it's been like very extended ass licking and I'm like "wow he's really taking advantage of knowing I like ass licking" (laughter)
AEW: Well we look out for those titles and we thank you for coming by.
Sarah: Yaayy!!!  Awesome. Thanks guys.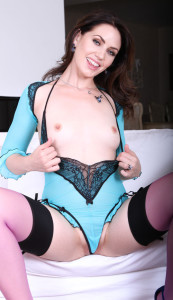 (Visited 1,278 times, 1 visits today)